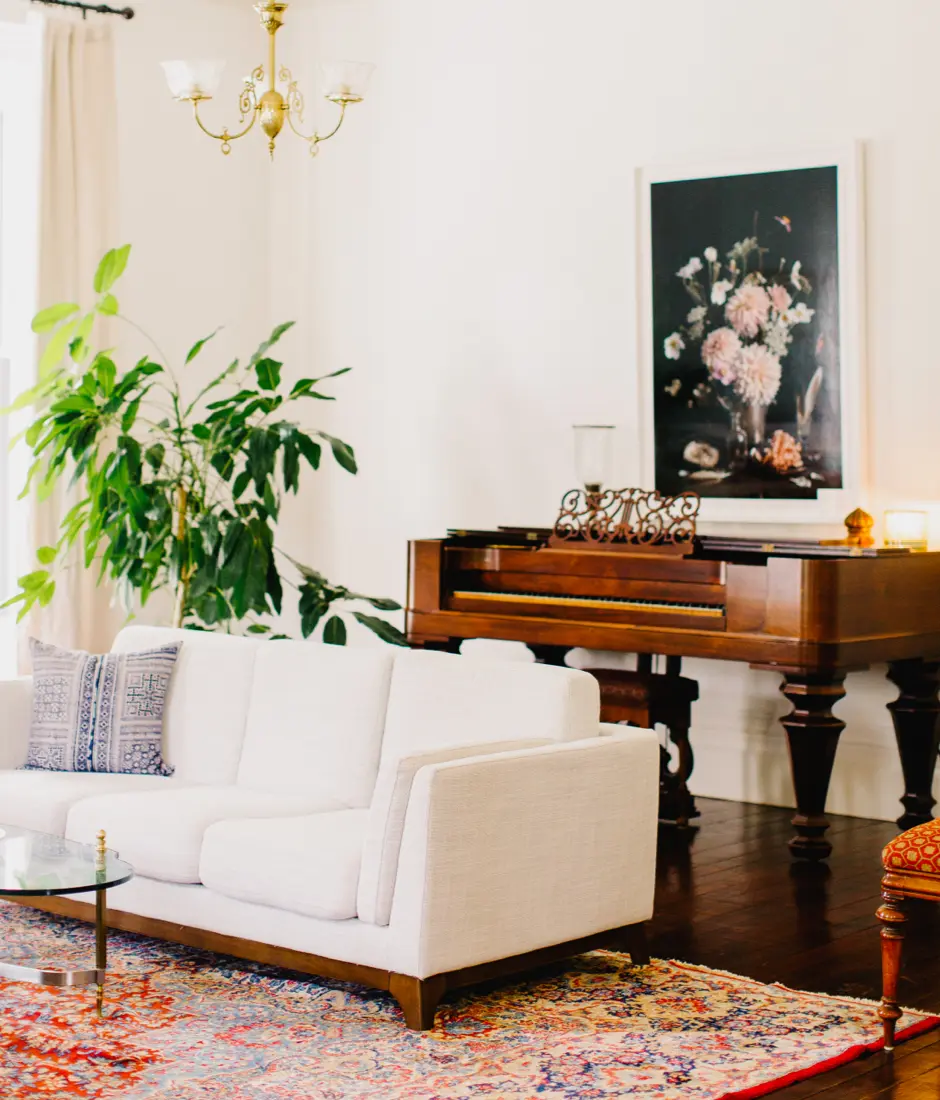 An Elegant Manor House as an Ideal Retreat
The Woodbourne Inn is an 1839 historically designated treasure. The elegant 8-bedroom manor house has been fully restored as an historical gem in the Niagara-on-the-Lake community surrounded by an acre of rare trees which tower over the property. The contrast of Victorian & Georgian era architecture is still visible today and is as steeped in history as it is in architectural style.
Located 10 minutes from everything you would want to explore in the Niagara Region, the Woodbourne Inn is the ideal retreat from which to access world-renowned wineries, excellent restaurants and live theatre, the majestic Niagara Falls, Niagara-on-the-Lake, Niagara Escarpment hiking, and all the natural beauty of Canada's unique fruit belt.
The Rooms
The Woodbourne Inn has 8 different rooms, each furnished with antiques, Persian carpets, and Canadian art. Guests have access to the stately Victorian living room, dining room, guest pantry, and library, as well as the garden and outdoor terraces.
Each room has access to our hotel living room, dining room, and guest pantry stocked with fridge, wine glasses, dishes and cutlery, wine and champagne glasses, microwave, light snacks, organic coffee and tea for exclusive use of hotel guests.
Local Bounty
This planet is beautiful and it is what sustains us and our communities. We thus uphold our responsibility to this earth ​by ​​making informed, thoughtful, and sound ​environmental​ decisions.
Learn how we're taking initiative
This is an incredible historic inn to stay at if you want a luxury stay while you're in Niagara-on-the-Lake. The furnishings are incredible and really add to the high-end feel of the inn. We stayed in the Romantic Room with a fireplace and couldn't have asked for a better place to stay. There were bath salts in the bathroom to use and gowns which were a nice added touch. The breakfast is unlike any you'll ever have and is a fancy twist on a traditional breakfast.
Amazing stay! The staff were fantastic, the food was top notch! Like chefs kiss I would love to eat that food everyday. The birthday plate of chocolates in our room when we arrived was such a lovely and delicious surprise! The pantry had some amazing tasty homemade treats too! Our room had a beautiful homey feel with a fantastic soaker tub. Only downside we can say was it was so hot in our room and no a/c but we managed
What a magical place to stay. Every detail is curated so beautifully. The inn itself is quite exceptional. The rooms and common areas are tastefully designed. The coffee platter while getting ready was so lovely followed by breakfast out on the terrace. I can't wait to come back! This place is one of a kind.
Woodbourne Inn is like no other. We are locals who always drive by and admire this house. The historic house did not let us down when we walked in. It is stunning! Our room was very clean and updated with so much charm. The beds and pillows were so comfortable, the organic soaps are amazing. I've ordered my own. Attention to detail and excellent customer service is truly the key in this little jem. The fire outside, the pre breakfast delivered to your door and the amazing breakfast down stairs was an absolute treat. Thank you for a memorable experience.
We have stayed there 3 times! A beautiful Inn, tastefully restored,very clean, great hosts and breakfast. They have eight bedrooms each with their own bathroom and shower/bath. A recreated library room makes a good breakfast room. Coffee and muffins are delivered to your bedroom door in the am. Best B&B we have stayed in.